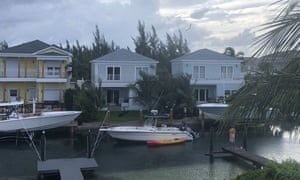 Hurricane Dorian beefed up into a "catastrophic" category 5 storm on Sunday, as it began pounding the northernmost islands of the Bahamas. In the US, new uncertainty over its path reignited fears of a landfall on the American mainland.
Officials warned of likely devastation in the Abaco Islands and Grand Bahama from 180mph sustained winds and storm surge of up to 20ft. In a special mid-morning bulletin, the National Hurricane Centre (NHC) reported wind gusts above 200mph and warned that "extreme winds and storm surge will continue for several hours".
The NHC said Dorian was the strongest hurricane to hit the Bahamas in modern times. In the islands, government officials urged residents to take immediate steps to protect life and property.
"Once the winds get to a certain strength we're not going to to be able to respond," Don Cornish, head of the national emergency management agency, warned in a pre-storm briefing. "We may not have the resources to come after persons who are in harm's way."
Reporters in the Bahamas said hundreds of residents of lower-lying islands, including Grand Cay and Sweeting Cay, had ignored mandatory evacuation orders.
"It is unfortunate that a lot of persons on these Cays did not heed these warnings for whatever reason and a lot of them are left," Theo Sealy of Bahamas TV network Eyewitness News told CNN.
Hurricane hunter crews from the National Oceanic and Atmospheric Administration (Noaa) flying into the storm's eyewall early on Sunday recorded winds gusting at more than 200mph, while an expected slowing in Dorian's forward progress raised the prospect of the system effectively stalling over the Bahamas for up to 48 hours and dumping up to 30in of rain in some areas.
At 8am, Dorian was 35 miles east of Abaco Island and moving west at 8mph, its predicted path taking it close to Florida's east coast on Monday before turning north and skirting the US coast towards Georgia and the Carolinas.
On such a track the storm was still likely to avoid landfall on the US mainland. But a significant change to the forecast by NHC experts on Sunday morning brought the cyclone much closer to Florida's south-eastern coast by Monday and Tuesday, prompting new hurricane and tropical storm force watches from just north of Miami to Sebastian inlet, 100 miles north of West Palm Beach.
In Florida, some observers likened life at the mercy of the slow but unpredictable storm to being stalked by a turtle.
"A Florida landfall is still a distinct possibility," Richard Pasch, senior hurricane adviser at the NHC, wrote in a morning advisory that upgraded Dorian's strength to a category 5 storm with sustained winds above 156mph.
"Since Dorian is forecast to slow down and turn northward as it approaches the coast, life-threatening storm surge and and dangerous hurricane-force winds are still possible along portions of the Florida east coast by the middle part of this week.
"There is an increasing risk of string winds and dangerous storm surge along the coasts of Georgia, South Carolina and North Carolina later this week."
Palm Beach officials announced evacuation orders for coastal areas and mobile homes on Sunday morning and said shelters were being opened because of the risk of a closer brush with Dorian than had been predicted 24 hours before. Counties further north, including Martin and Brevard, began evacuations on Saturday.
The increasing strength of the storm makes it the fourth consecutive year that at least one Atlantic cyclone has reached category 5 status, according to the NHC. Hurricane Matthew in 2016 followed a similar offshore track to Dorian's expected path yet still caused hundreds of billions of dollars in damage and 47 deaths in the US from wind, storm surge and significant inland flooding.
In 2017 Irma and Maria tore through the Caribbean, the latter blamed for more than 3,000 deaths in Puerto Rico, and last year Hurricane Michael wrecked areas of the Florida Panhandle that are still struggling to recover.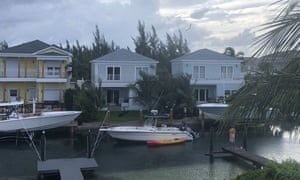 Donald Trump began Sunday at Camp David in Maryland. The White House said briefings continued while the president was at his golf club in Virginia on Saturday.
Trump was due to return to Washington. Kevin McAleenan, the acting secretary of homeland security, told ABC's This Week the president would find "really a whole of government effort, and the president is going to make sure that we're on the same page, that we're tracking this, and that we're going to be ready".
The administration recently ordered a transfer of funds from the Federal Emergency Management Agency (Fema), which has been criticised for its reaction to recent hurricanes, particularly in Puerto Rico, to Immigrations and Customs Enforcement (Ice). In a letter to Congress about the move, McAleenan wrote that "absent significant new catastrophic events", Fema "would still have enough money to operate".
Asked on Sunday if Dorian was a potential "catastrophic event", he said: "It is."
He also said no funds had yet been transferred and insisted that "any potential transfers will not impact our ability to respond to this storm or any other storms in the rest of the hurricane season".
The Associated Press contributed to this report