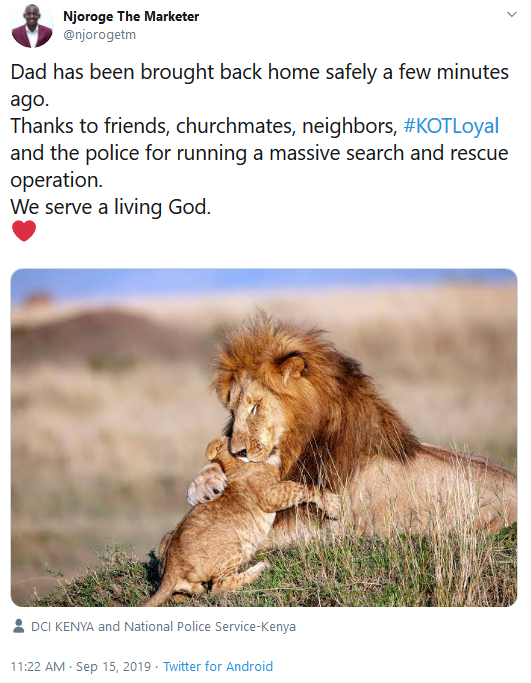 James Njoroge, a social media marketer, tweeted on Saturday, September 14 that his father had disappeared from home on Friday at around 6 a.m. and he had not been heard from since.
Having checked all the major hospitals in Nairobi and reported to the police to no avail, he appealed to the formidable Kenyans on Twitter (KOT) for any information that would have helped locate him.
"Due to the frail health of my mother, please direct inquiries or information to me personally," he wrote on Saturday, September 14 and gave his phone number.
He then tweeted an update on Sunday, September 15, approximately 15 hours later, thanking all those who responded to his plea, announcing that they had managed to find their father, following concerted efforts by netizens.
Speaking exclusively to Kenyans.co.ke on Sunday, the visibly overwhelmed Njoroge declared that after the outcry, members of the public had managed to locate his father, and had been kind enough to help him onto a matatu and paid his fare till he finally made it home.
He also explained that apart from fatigue, he was in a good state physically, even though he was yet to narrate what exactly happened to him.
Asked why he took to social media instead of calling the police, he claimed that they had reported the matter to the authorities, but they did not know if the police would be that effective due to the condition that their father had left in.
"He had left his phone and identification behind, so the police might have been incapacitated to launch the manhunt without the phone," he explained.
Blowing aside comments by some people on social media, he clarified that his father had been of good health, both physically and mentally, and that he had been a lecturer of Mathematics and Physics at various colleges for years before his retirement.
He told the reporter that never before had they experienced such a problem or any signs of disease in him and that he loved jogging, which he did every morning from 6 a.m., thus the worry that he might have been kidnapped while at it.
He also added that being a staunch member and an elder at the Chieko SDA Church and of "unquestionable character", it would be insurmountable to believe that he would just wander off somewhere without informing the family.
He, however, stated that he is forever indebted to Kenyans on social media, whom he had never met but did not hesitate to help him when he needed help.