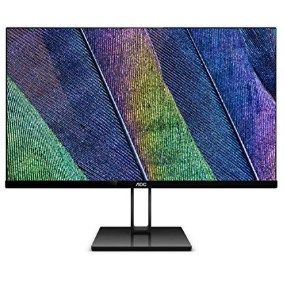 The Surface Pro (2017) and Surface Pro 6 both have all the tools necessary to be your number one device, including a beautiful 12.3-inch PixelSense touch display. But that doesn't mean you won't be setting up a workspace at home or the office. In that case, you're probably looking for an external monitor — something that lets you get more done thanks to its size and its resolution. Note that you may need an adapter to connect some of these monitors to your Pro, which uses a Mini DisplayPort for video out.
If we're making some suggestions
Any of the monitors in this roundup can make an ideal addition to your Surface Pro, but there are a couple that we recommend.
Dell's 27-inch UltraSharp U2719D brings a high resolution, beautiful build quality, and a ton of ports to the table, making it the best all-around pick for most people. Keep it on the adjustable stand or mount it on the wall to save space on your desk. It's not the cheapest option in this roundup. Still, Dell doesn't mess around with its monitors, and you should be pleased with the display no matter what you use it for.
If 27 inches is a bit too big, and you don't want to spend hundreds of dollars, the 22-inch AOC 22V2H makes a better choice. It's inexpensive, it has a 1080p IPS panel, and the bezel is about as thin as can be. The stand can be adjusted for tilt, and it includes AMD FreeSync support if you have a secondary gaming PC with AMD hardware.