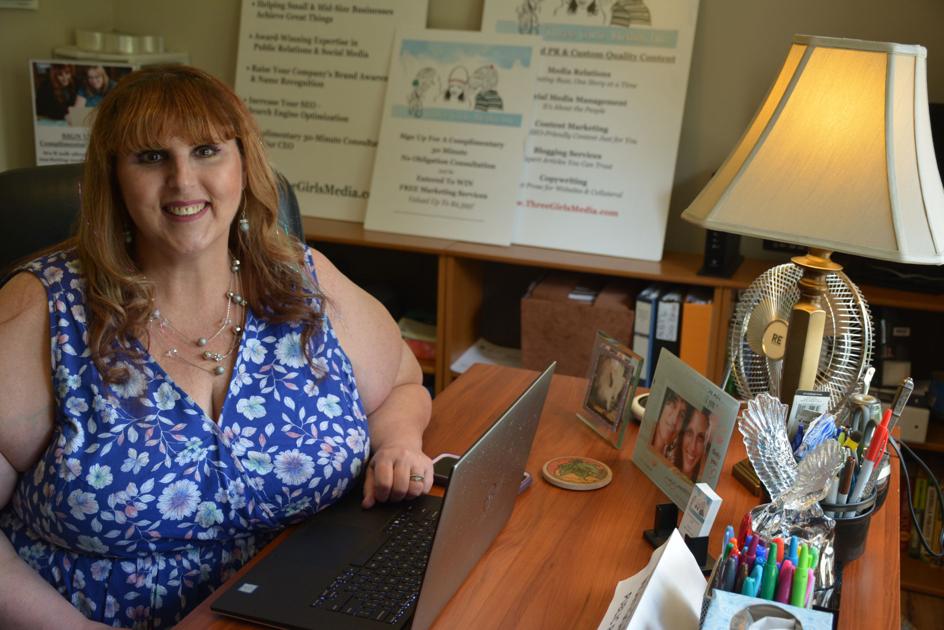 Three Girls Media, a Yelm-based marketing and public relations company, was recently named the "Most Innovative Social Media Marketing Agency in Washington State" by CV Magazine.
"It's a very exciting honor, and unexpected, but it's always great to get an award, especially one like this," said Erika Taylor Montgomery, owner of the company. "It really demonstrates that, when it comes to social media, we are constantly on top of the game."
Montgomery said the company provides marketing and public relations services to businesses of all industries and sizes.
On the marketing side of the business, Montgomery manages the social media presence of her clients and orchestrates online advertising for them. The company also helps maintain successful blogs, creates email-marketing campaigns and does collateral for any type of events and trade shows.
As for the public relations side of the business, the company helps clients appear in the media.
"We work with our clients in the press to get stories about their business or their products or their services in the news," Montgomery said.
Three Girls Media has found success because it tailors its services to each client.
"Creating custom quality content is really what we are all about," Montgomery said. "We are not a content mill. What we create for one client will never be shared with another client. It is all unique and customized for each individual business that we work for. It's a little more work that way, but our clients see the payoff."
When asked about the name of the company, Three Girls Media, Montgomery explained that she is a sole owner and founder of the company and that the "three girls" expressed in the name refers to a tongue-and-cheek philosophy that she holds to.
"It occurred to me that in marketing and PR, what we really do is we spread the word about things," Montgomery said. "How do you spread the word about things most efficiently? All you have to do is tell three girls, and before you know it, it's out there like wildfire."
Montgomery's career actually started in journalism and broadcasting in the Bay Area of California, specifically in the Silicon Valley. She was on the air in television and radio for more than 20 years. She was doing morning shows for the last 10 years she was on air. Eventually, she grew tired of waking up at 2 a.m. for a 4 a.m. airtime.
Wanting a job that held to a more traditional 9-to-5 pace, Montgomery began to search for someone who would give her a second big break.
"I literally started cold calling PR firms in Silicon Valley," she said, adding that one CEO was willing enough to say "yes."
She worked her way up to the position of director of media relations and managed large campaigns, including some work for casts of "Will & Grace" and "Crossing Jordan."
After four years with this public relations firm, Montgomery decided she needed another change.
"I'm the kind of person who likes to continually grow and learn," she said. "I wanted a new challenge and became the press secretary for the California State Legislature."
Instead of finding joy in politics, Montgomery said that after four years in that world she found little to miss.
"Politics is a very dirty business," Montgomery said. "I'd finally had my fill of that. I knew at the time that I could either go back to work for another PR marketing agency, or do something different."
It was at this crossroads, back in 2005, that Montgomery decided to create Three Girls Media. She started the company in Silicon Valley and brought it with her as she and her husband moved to Yelm several years later.
Now, with momentum from the "Most Innovative Social Media Marketing Agency in Washington State" award boosting her onward, Montgomery said 2019 has been — and will continue to be — a year of growth for the company.
"In the last three months, we have hired six new team members," Montgomery said. "We are growing like crazy. All of the hard work is paying off. We are not just growing locally, but with clients outside of the area."
Three Girls Media contracts with local companies such as Rob Royce Homes and Butter Fusion and also with companies from outside the area, such as a hotel in Silicon Valley and a publicly traded company called UPC Insurance.
And with some new clients coming, Montgomery said that she expects big things from the rest of the year.
"I think that we are projected to continue to skyrocket for the remainder of the year," she said. "As an entrepreneur, its something really exciting to see your baby grow and to find that success."
Visit www.threegirlsmedia.com to learn more about the company. The company's Facebook page can be viewed at www.facebook.com/ThreeGirlsMedia.