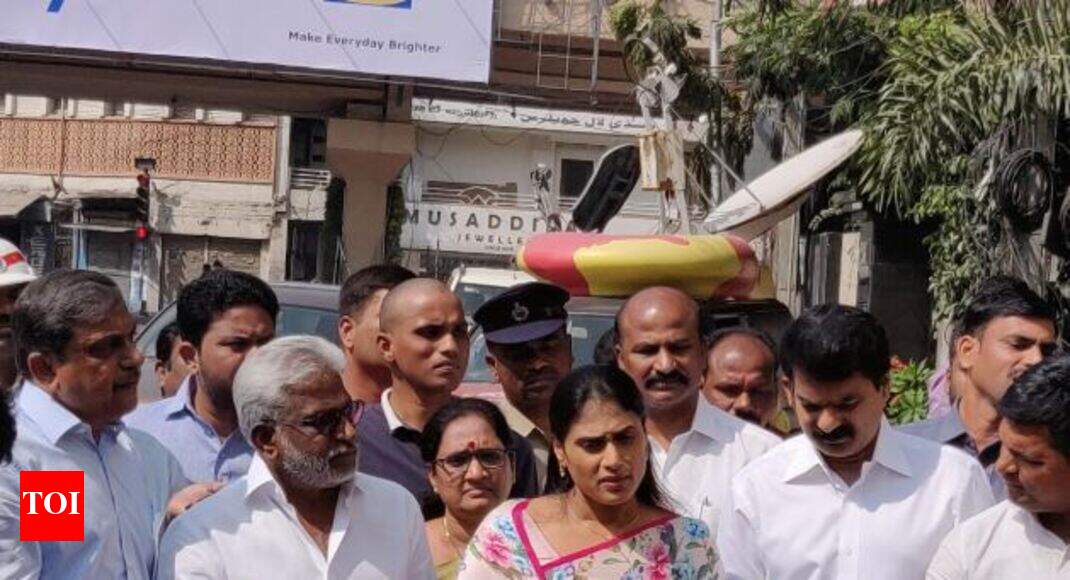 HYDERABAD: Former chief minister of unified AP Dr Y S Rajashekar Reddy's daughter and YRS congress president YS Jaganmohan Reddy's sister YS Sharmila on Monday lodged a complaint with Hyderabad police regarding social media posts linking her to Bahubali lead actor Prabhas.
She met Hyderabad Commissioner of police Anjani Kumar along with her husband Brother Anil Kumar and filed a written complaint seeking criminal action against those who are spreading misinformation and rumours alleging affair with actor Prabhas.
YSRC senior leaders Ex-MP YV Subba Reddy and Sajjala Ramakrishna Reddy accompanied her.
Sharmila alleged that she suspects the hand of Telugu Desam Party behind this and said AP chief minister N Chandrababu has spread misinformation against her father YSR branding him as factionist and her brother Jagan as arrogant and aggressive.
She said both YSR and Jagan proved that they are for the welfare of the poor. She alleged Naidu could be behind the character assassination of her.
Sharmila said she swear on her children that she never met Prabhas and never spoke to him.
In 2014, similar propaganda on character assassination of Sharmila linking her to actor Prabhas was done but then she lodged a complaint and police arrested a few accused involved in it. "Now 2019 elections are approaching they started a smear campaign with baseless information. This is an attack on woman," said Sharmila.