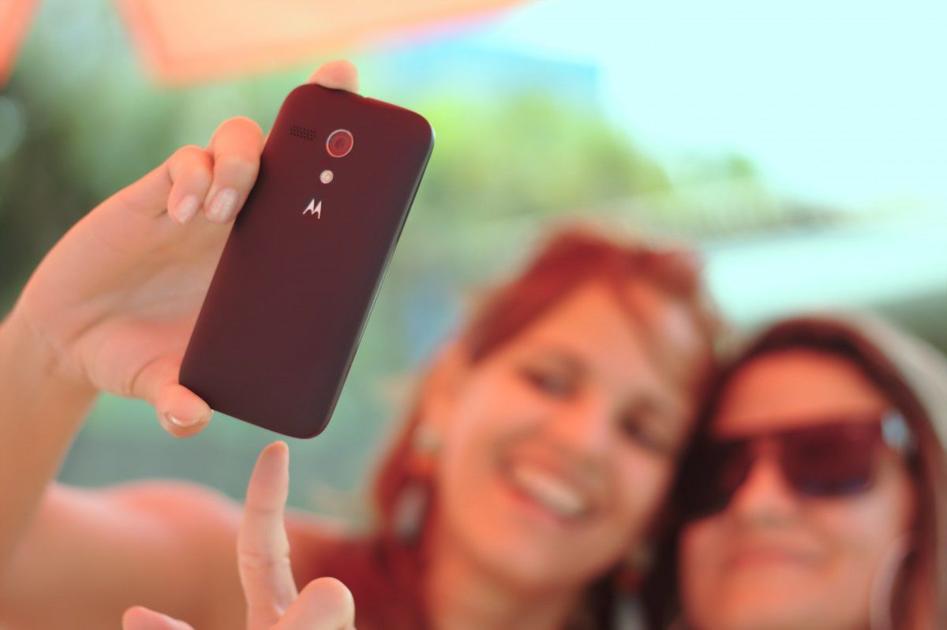 Whether they're scrolling through their timeline for the latest gossip or watching the latest trending video, teenagers seem to use social media on a daily basis. 
Phone applications like Snapchat or others give users the ability to post both pictures and videos, but some local officials worry they can have a negative affect on teens. 
Over the past few years, teens have taken more "selfies" — a picture they take of themselves. Apps like Snapchat give users the opportunity to use filters that can change the way they look. 
According to the Washington Post, people are changing their perception of beauty with them being bombarded with digitally altered photos. Whether it's puppy dog ears, flower crowns or different colored eyes and lips, these filters could be triggering dysmorphic disorders in some who are now asking plastic surgeons to look exactly like these filters in real life permanently, according to the article. 
An article recently published in the academic journal JAMA Facial Plastic Surgery by researchers from Boston University School of Medicine's Department of Dermatology says the phenomenon is known as "Snapchat dysmorphia" and is causing widespread concern among experts who are worried about its negative effect on people's self-esteem and its potential to trigger body dysmorphic disorder, a mental illness classified on the obsessive-compulsive spectrum. 
"On Snapchat, for example, the picture messaging application features upward of 20 filters that users can toggle through by simply swiping across their phone screens," according to the article. "Aside from adding flower crowns or puppy ears, filters can give a person freckles, longer eyelashes, wider eyes and flawless skin, among other augmentations. Facebook, Instagram and Twitter also allow people to edit their photos in the application before uploading."
Tammy King, executive director of the Children's Advocacy Center of Johnson County, said she thinks that most teens are struggling trying to present an image to their peers that they are confident, happy and are hopefully fitting in with other children. 
"The truth is that they are going through major changes emotionally and physically as they continue to mature," King said. "Many are unsure of themselves and struggle with maintaining a high level of confidence. They are often attempting to present themselves to peers in a way that does not truly reflect who they are and how they feel. 
"They struggle with anxieties about how peers view them and are inundated with images from mass media outlets about how they need to look to be socially acceptable. 
"This has always been a struggle for youth, but with the prevalence of social media apps that can be used to help us achieve 'the desired looks' in mere seconds, we find that kids really become unhappy with their real life appearance and this is so sad."
Our youth, she said, need to learn what true beauty really is so they can begin to value the appropriate things about a person. 
"Not all of us are going to blessed with super model looks," she said. "More than likely, we are all going to struggle with something we don't like about our appearance — being too heavy, too skinny, too short, too tall, hair is too frizzy, hair is too short, facial blemishes. The point is that we always want something we don't have and somebody else does."
Parents need to be the voice or reason and love for their children as they struggle with not liking themselves, she said.
"Our kids are infused daily with negative doses of 'you need to look like this,' so we must infuse them daily with praises of good work they complete, recognize the things they are doing well and voice that to them and tell them when we are proud of them," she said. "Adults often tell their friends, but they need to tell their kids that they are wonderful, amazing kids that are changing the world. 
"God created each of us with unique gifts, talents and abilities."
Parents need to limit the amount of hours their children are on social media, she said.
"Parents need to put their cell phones and social media away as much as the kids do and families need to really listen to each other," she said. "Adults have to make time for their kids without interruptions. I can't stress this enough because it is a challenge in today's world, but it is so important."