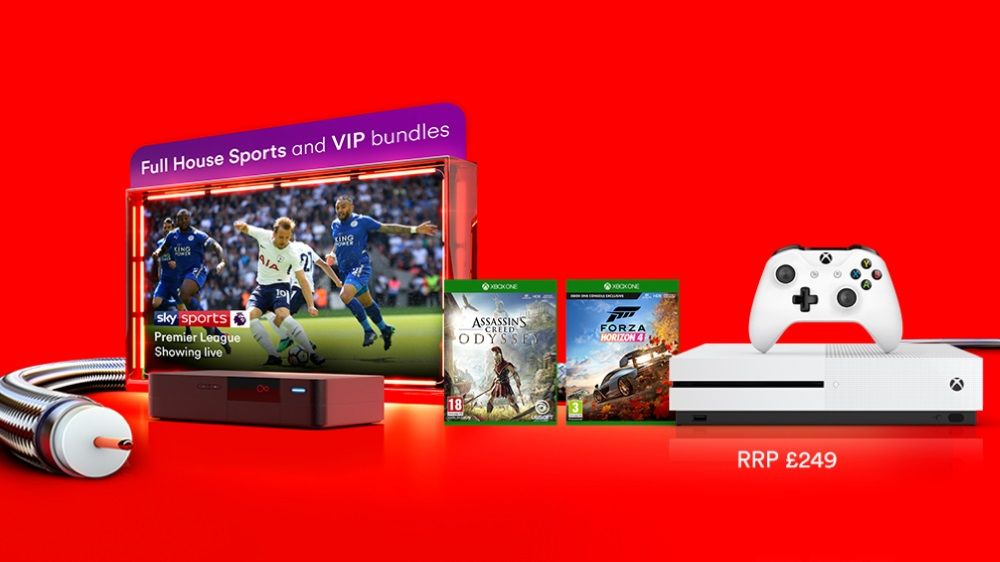 There's no need to adjust your calendars, Black Friday and Cyber Monday 2018 haven't suddenly crept up on you a without you noticing. But maybe somebody should tell Virgin Media that. Its latest broadband Flash Sale has a real whiff of sales season about it, and it smells damn good.
Sign up for one of Virgin's premium broadband and TV deals before midnight this Wednesday (that's right, the clock's ticking) and it will throw in an excellent Xbox One S bundle absolutely free. We'll tell you more details about what the bundle includes below, but the short version is that you get the all new Assassin's Creed Odyssey and driver Forza Horizon 4. So a chance to get your broadband, TV AND a Christmas pressie sorted out in one fell swoop.
That's in addition to the hardware and tonnes of channels that Virgin includes with its super fast fibre optic internet set-up and eligible TV packages. The Flash Sale is available on the following selected broadband and TV deals:
– Full House Bundle with 213Mb broadband with Sky Sports, BT Sport and 230+ TV channels for £77 per month
– VIP Bundle with 362Mb broadband with Sky Sports, Sky Cinema, BT Sport and 260+ TV channels for £89 per month
And if you already have an Xbox One S or simply aren't a gamer, then you can choose £150-worth of bill credit instead. That means the lion's share of your first two months' bills sorted before you even start.
Rather discuss your options over the phone? Then give 08000-492-102 a ring to speak to an adviser and order.
What is included in my Xbox One S bundle?
According to TechRadar's Xbox One S review, it 'sets a new high point in console development'. Unlike the PS4 Slim or PS4 Pro, the Xbox One S also has a 4K blu-ray player built in and of course a ridiculous choice of games to play on it.
As well as the 1TB console itself, Virgin's freebie also packs in the following:
Assassin's Creed Odyssey game disk
Full game download of Forza Horizon 4
Wireless controller
14-day Xbox Live Gold membership
1 month Xbox Game Pass trial with access to over 100 games
HDMI cable (4K Capable)
Virgin Media says that the RRP of the bundle is £249, but we actually reckon this is a pretty conservative estimate. As you'll see on our Xbox One bundles deals page, you'd be doing really well if you manage to bag this kind of package for £250 or less. As far as freebies go, this is an absolute cracker.
Is Virgin fibre broadband available in my area?
Around 60% of the UK households are now able to receive superfast Virgin broadband. It's easy to discover whether you're one of the lucky 3-in-5 – head to our dedicated Virgin broadband deals page (or the price comparison chart at the bottom of this page), enter your postcode where indicated at the top of the page and if deals show as available then you're laughing.
If no results are returned, then head to our best broadband deals page instead and do exactly the same thing to see whether you can get superfast fibre broadband with another provider, such as BT Superfast.
Existing Virgin Media broadband customers
Sorry, the Virgin website confirms that the offer is for new customers only.