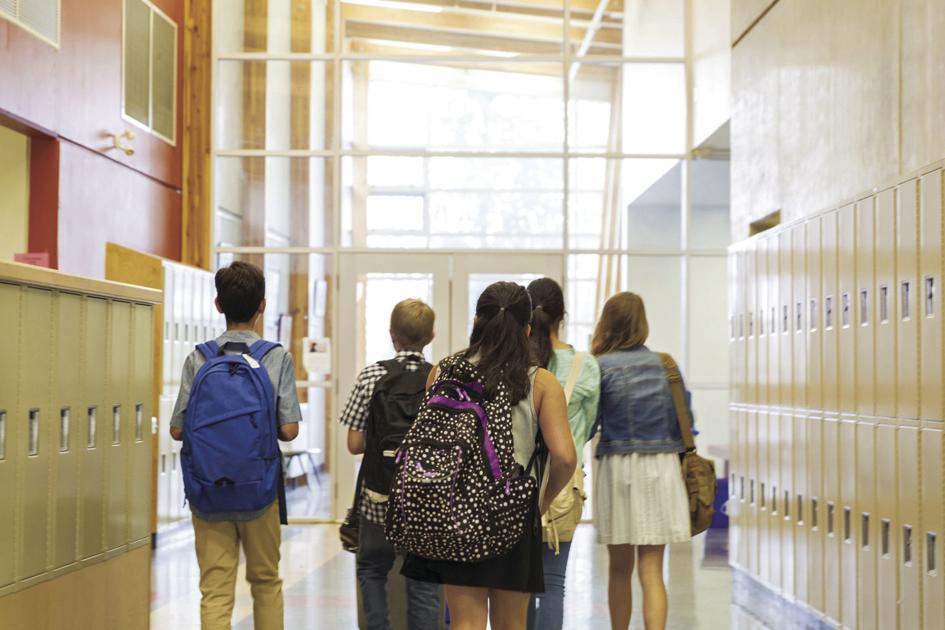 As students return to school this week, many districts in the region have tightened security — both with procedures and technology — in light of a spate of deadly school shootings in the past year.
Newark School Superintendent Matt Cook said school officials and communities need to recognize that school violence could happen anywhere.
"We are looking forward to a great 2018-19 school year, and while we all hope that we never have to respond to a serious incident in our schools, we are well aware that no place in our society is immune, and so preparation and vigilance remains a high priority," he said.
In Geneva, school Superintendent Trina Newton said the effort to ensure student safety is a continuing one.
"Safety and security upgrades are first and foremost in our ongoing capital projects," she said. "Entries to all of our buildings remain locked during the school day, and visitors are carefully screened before being admitted. All are required to provide identification. The district plans to review and improve security on a continuing basis."
In Romulus, the effort to improve school safety also is ongoing, said Superintendent Marty Rotz.
He said the District Safety Committee meets three to four times a year to go over its safety plans and daily procedures.
Here are some of the changes over the last three school years:
• Addition of a full-time resource officer and school social worker;
• Redirected entry and exit of students and visitors in order to better control access;
• Revised practice for when district allows visitors in during school hours;
• Increased the number of electronically controlled entrances with improved controls and the monitoring of the entrances via video cameras;
• Increased attention to identifying staff by employee badges and enforcing display of badges;
• Formation of a student support team consisting of counselors, administration, partner county agencies, resource officer, school nurse and teachers;
• Increased practice of emergency procedures like lockdowns and evacuations;
• Intruder-resistant and bullet-resistant glazing in selected areas;
• Construction of an additional staffed-access point to greet visitors and provide visitor's badges created by scanning IDs and screening via a national database.
"Most all of these items are behind the scenes or invisible to visitors, but we believe improving safety and security is much more than meets the eye," he said. "The biggest visible change people can expect this year when they visit will be the need to provide ID information when they visit in order to get a visitor's badge."
Rotz expects the procedure to start in late September.
Penn Yan School Superintendent Howard Dennis said the district is making a number of security adjustments for the coming year, part of an ongoing effort of the district's Safety Committee to protect students and staff.
"We spent time training and reviewing our safety and evacuation plans on opening day with all staff," he said. "There was training for all staff in a variety of different aspects of safety over the first two days with staff. We have updated our procedures for including substitutes in emergency processes."
Dennis said the district is holding additional drills and practice for students and staff in the coming year.
The district is also working on new secure vestibules at the elementary and middle schools, and the work is expected to be done by the end of the school year.
He said the district is rolling out a new program called Navigate Prepared, "which allows quicker accounting for student attendance, better communication between staff members in an emergency and clearer mapping of the campus classrooms and buildings."
Dennis said the Board of Education is looking at adding an additional half-time school resource officer.
Security changes at Lyons, Newark
In Lyons, Superintendent Donald Putnam said the district has added security entrances to the elementary, high school and district offices.
"All visitors have to pass through two entry checkpoints before being allowed into the building," he said. "We have installed high-tech security cameras inside and outside buildings throughout the district."
Additionally, said Putnam, the district has new fire alarm and public address systems, a new phone system with increased emergency notifications and a high-tech visitor-screening system in both buildings.
In Newark, said Cook, the district is contracting with a security company called Swoop 1 for security. The company employs the district's former coordinator of student affairs, Jay Flock, a retired police officer.
"Swoop 1 came highly recommended by some of my colleagues who use them in the same way in Monroe County, and they have been very responsive to work with over the summer," said Cook.
According to Cook, Flock will serve as the district's part-time director of security, and full-time security will be added this fall.
"This may be one full-time person or two half-time people to provide more flexibility of scheduling," he said. "The details are still being finalized."
Cook said neither the Newark Police Department nor the Wayne County Sheriff's Office can supply the district with a school resource officer at this time.
The district may stay with the private agency or move to the SRO model in 2019, but no decisions have been made, said Cook.
The Newark superintendent said the district spent much of the summer updating safety plans, as well working with Wayne County emergency preparedness staff.
Cook said he and other county school leaders met with the sheriff's office, Newark police and state police to discuss safety drills and response plans.
"I was assured by how closely these three law enforcement agencies work together and by the closest car concept that they deploy in Wayne County," he said. "In other words, they do not let turf or jurisdiction get in the way of having the closest car respond to a major event like a school shooting."